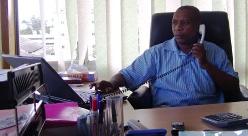 Managing Director: George R. Mukabi-FICS
Director's message
Chief Finance Officer and Director - Jane N Ruitiyu
Finance Director's Message
Northwest kenya Ltd is a global comprehensive provider of logistics and shipping solutions in Air, Sea and Land services combining the expertise and intermodal network regionally and internationally.Being a member of NORTHWEST GROUP which is a family comprising of other members engaged in different services.We are further divided into three main divisions in logistic, namely shipping department by NORTHWEST SHIPING LTD, clearing by NORTHWEST KENYA LTD and transport by NORTHWEST CARGO HANDLERS LTD.
Based in Kenya, Mombasa , we enjoy the most logistical advantage than many others in the industry. In our quest for unsurpassed customer reach and service, we have spread our wings across major cities in East, West and Central Africa to the Far East and Europe.
For more than a decade now we have reaped greatly from our effort and dedication to the client needs across world boundaries, providing unequalled one- on- one customer service in conventional and special sea and air imports and exports.
In Northwest kenya Ltd, we understand the art of keeping the customer first within our supply chain management and product support riding high as distinguished and most experienced among leaders.
With a massive investment in technology our hands-on service policy has greatly rewarded the hard work and relentless concern we have for customer satisfaction.
Important cost areas such as shipment loss or damage while in our custody or in the process of clearance /Forwarding ,are reduced and often eliminated by Northwest kenya Ltd is diligent planning ,implementation and expert management we apply to each facet and segment of shipment to ensure on-time cost -effective handling ,clearance and delivery